If you enjoy interior design and home improvement, then no doubt you may have read about a new style of hardware called barn door hardware, also known as flat track hardware. Barn door hardware is a type of movement hardware for your doors that allows the door to slide back and forth instead of swing out and back like hinges. Unlike pocket doors, this hardware keeps the door on the outside of the wall. Homeowners are loving it because it is easy to install, easy to use, extremely durable and reliable, and additionally lets them see their door whether it is in the closed or open position.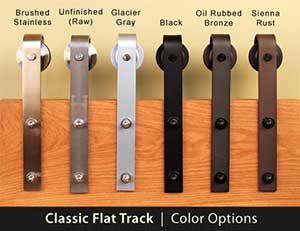 A standard flat track hardware system typically includes several basic components. They are the following:
1) Track w/ spacers– Track lengths depend on your needs and usually range between 5′-8′, but virtually any length is available. The track comes with spacers for the mounting hardware. The amount of spacers depends on overall track length
2) Track hangers– Standard track hangers are curved like a candy cane with flat squared-off ends. Specialty hangers are available such as "U" shaped, "Square" shaped, and "Arrowhead" shaped hangers. Two hangers are standard with a system; two are needed per door.
3) Door stops– Two door stops are included and are placed at either end of the track for obvious reasons.
4) Door glide– A nylon door glide for the floor is also included. This helps prevent the door from swinging out away from the wall and keeps it flat against the wall when the door is in movement. The door glide typically is placed right next to the bottom of the door frame.
There are now three new exciting components available that can enhance the quality and performance of the hardware. These are anti-jump blocks, door stop cushions, and just recently the "Quiet Wheel."
Anti-jump blocks
Anti-jump blocks are attached to the track hangers on the non-visible side and sit between the door and the track. These help prevent the door from being jarred and potentially popping off of the track.
Door stop cushions
Door stop cushions are exactly what they might seem. The are small cushions that are attached to the door stops that soften the impact of the door when it slides into either the open or closed position. This helps reduce any noise that might be made on impact of the hanger and door stop, and also protects the metal from any long-term marring or unnecessary marks.
The "Quiet Wheel"
Perhaps the most exciting of the three upgrades, the introduction of the "Quiet Wheel" has really improved the overall performance of this hardware. The wheels implement nylon parts into their construction, making the wheel roll smoother and quieter across the metal track.
These three recent additions to an already popular hardware style is making barn door hardware an even more excellent choice for homeowners looking to upgrade their homes!