Thinking of a new and interesting way to decorate and upgrade your home? Look no further than getting your very own French Doors.
What are French Doors?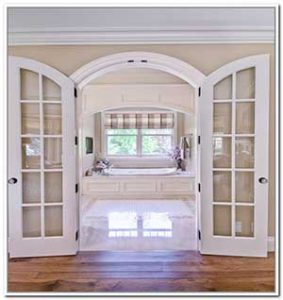 French Doors are essentially glass panels encased in wood (aluminium or steel) frames which are fitted to your door frame. They work exactly the same as your average door; however, they are mostly composed of glass and have many, many more benefits than what your typical door provides.
Why choose French Doors?
These doors are extremely popular nowadays and have many benefits ranging from being energy efficient to looking beautiful and elegant.
Here is my Top Ten Reasons for opening your home to French Doors:
These doors are sleek, stylish and can be tailor-made to suit any home decor or special tastes that you may have.
They allow natural light and warmth into your home; creating a completely new and invigorating atmosphere, transforming it immediately into a new, open space.
Easy access to your garden or outside areas; these doors provide an extension to nature. Whether it is bird watching or flower admiring that you are into; you have wide-screen, front-row action seats to the outside world on your doorstep!
Perfect for summer time; simply open your new doors and allow the fresh air into your home. These doors compliment warm days, allowing you easy access in and out of your home whether you are throwing a BBQ party, having paddling-pool fun with the kids or simply sunbathing in the back yard.
Ideal in winter; enjoy the cold outdoors in the comfort of your warm indoors.
Lock the warmth in with energy efficient double glazing, allowing you to enjoy the winter views without venturing outside. No worries when it comes to energy bills; double glazing doors prevent heat from escaping.
Easily installed inside your home too; French Doors can create a sense of openness when used as room dividers so they can make your home look and feel much bigger.
Great at blocking out unwanted noise; interior french doors fitted between noisy TV rooms, working areas or offices allow you to still see what's going on without being disrupted. Exterior doors diminish road sounds, barking, alarms and other outdoor noise pollution.
These doors are highly secure thanks to the double glazing feature, and an appropriate locking system can further make them just as secure as any other traditional door.
The stunning appearance and many benefits of these unique doors can add significant value to your home if you ever wish to move out.
Be the envy of your neighbours and talk of the town with your very own fabulous French Doors which are built to last and will provide you and your family with year-round enjoyment; come rain or shine!